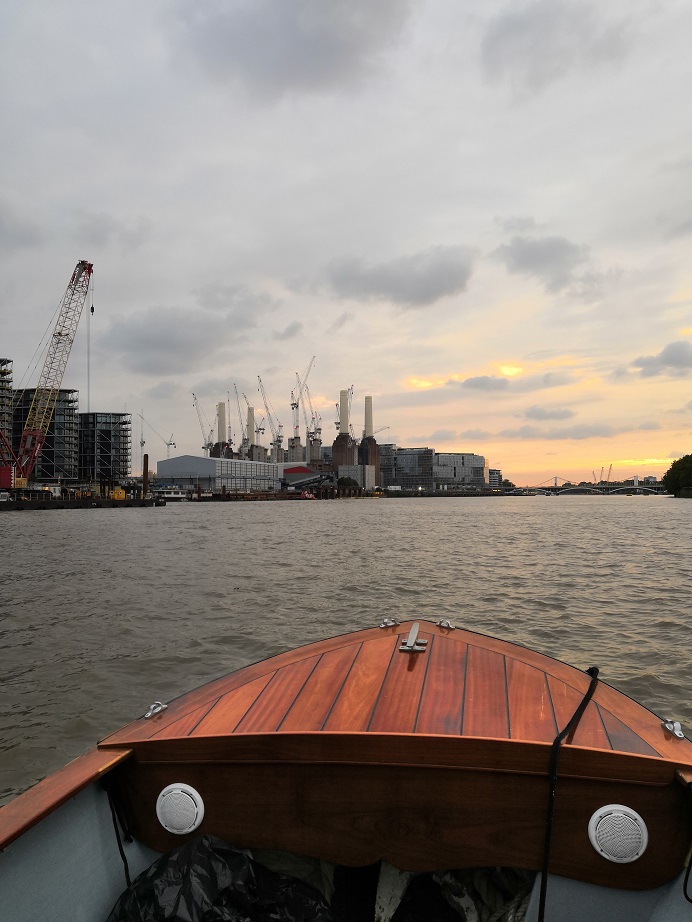 UMA is 6 meters long and 2.4 meters wide and has a maximum passenger payload of 12 people and a run time of over 2 hours. To enhance the boats' run time the group are planning to install a solar roof, possibly with bifacial PV. This could improve its potential to sail at a reasonable pace continuously without using energy from the battery pack.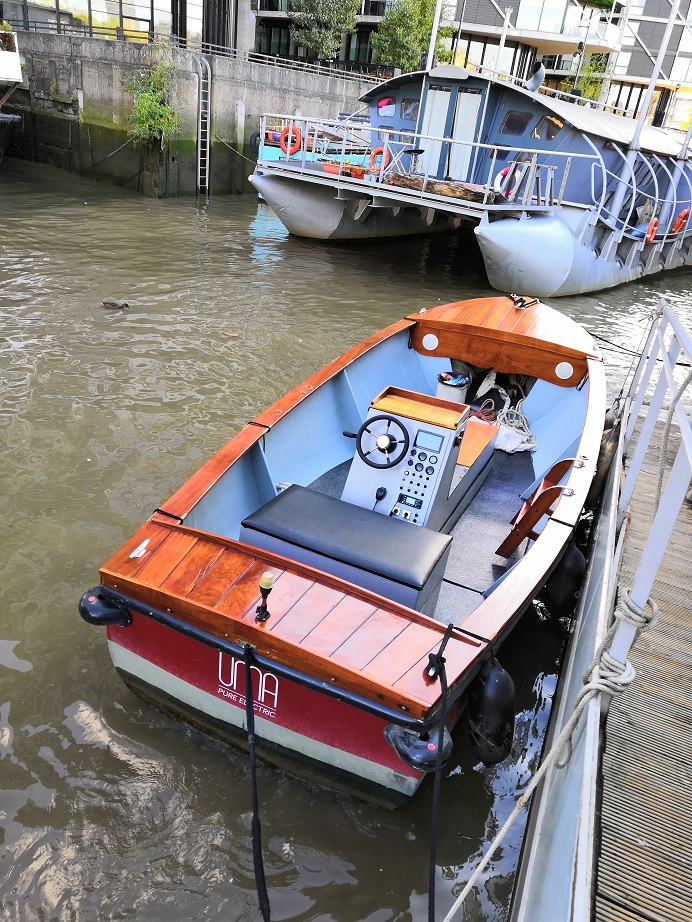 The inspiration to go solar with the project comes from the SB Collinda, a vessel that Foat was involved with when working with the Moss Solar Trust. The solar Rapide 600 crossed from Dover to the French coast on July 22nd 1997 in 6 hours and 15 minutes.
Green MotorSport is a small company based in Woking in Surrey. The company has been a pioneer in the sustainable transport industry for over 15 years. After Gordon graduated in Environmental Science, he has been dedicated to providing clean transport solutions and cost effective electric
motor systems for a wide range of uses. Gordon and his team are well known for pioneering electric vehicle projects and near impossible expeditions in electric vehicles. For this new venture Foat wanted a high profile project in a demanding harsh testing environment to prove that electric boats could work even in the most demanding situations. Gordon says "The tidal Thames is really harsh and exciting and a good place to start to prove a point". Currently Gordon shares the boat with two private individuals who have a keen interest in environmental technology. The boat is intended to help educate and motivate people away from using fossil fuels.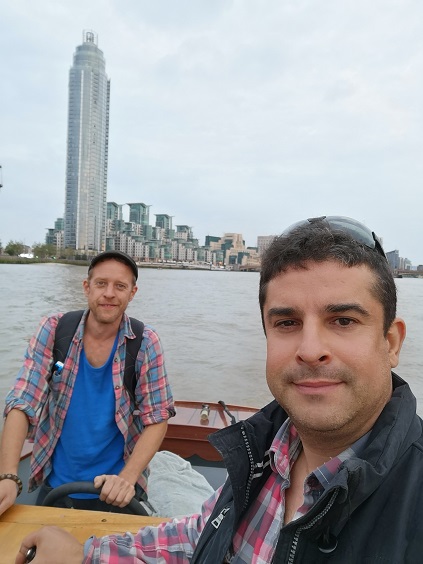 Picture Taus Larsen ( left ) Lead Powerboat level 2 qualified skipper of UMA. Known for eco Architecture and his professional involvement with Earthship & ZED Factory and TLarchitecture that specialises in high impact, low energy building designs. Gordon Foat ( right ) Lead technical drive train
engineer of UMA. Known internationally for his development of cost effective electric motors and some of the first safe lithium battery systems for electric vehicles with Green MotorSport. Gordon is an award winning and record holder of electric car rallying and was presented with the People and Environment Achievement Award for sustainability in Sport in 2012.
Electric boats have been known to be in use for over 120 years and were in fact very popular in the 1880s until the 1920s when the internal combustion engine took over. There was then a long gap until the first practical electric boat appeared in 1975 in England.
UMA was designed to show people how electric drives work so they can see everything working in front of their eyes and nothing is concealed, so it's novel that passengers can see what's going on and becomes a great talking point.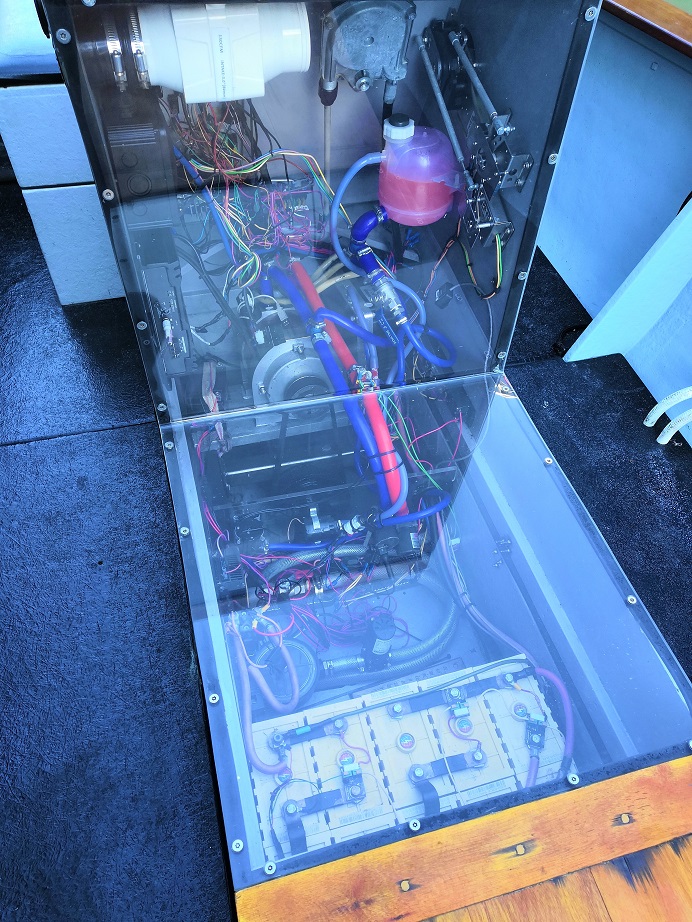 In 1882 the Austrian electric boat builder called Anthony Reckenzaun built the first practical electric battery boat called the " Electricity. " However, the boat builders hid all his secrets under the floor to make more space for passengers. In the case of UMA the battery box and drive becomes a practical seating area as well as a large viewing window showpiece that really shines at night and looks like something from the future with fun colours glistening and moving parts to fuel and spark ones imagination. Reckenzauns electric boat was reported to be a little bit larger than UMA at 7 meters long. Probably UMA is the only practical electric boat to tackle the harsh tides of Westminster on a regular basis for a considerable amount of time.
UMA technical
Battery Pack
48V nominal battery pack 400AH lithium phosphates 32 200AH cells in total, weight approx. 250KG
Full BMS with Bluetooth Android Display for real time cell voltage and current parameters.
Automatic Thermal battery heaters.
3KW lithium battery charger CAN BUS Single phase.
48V DC-DC converter 250 Watt.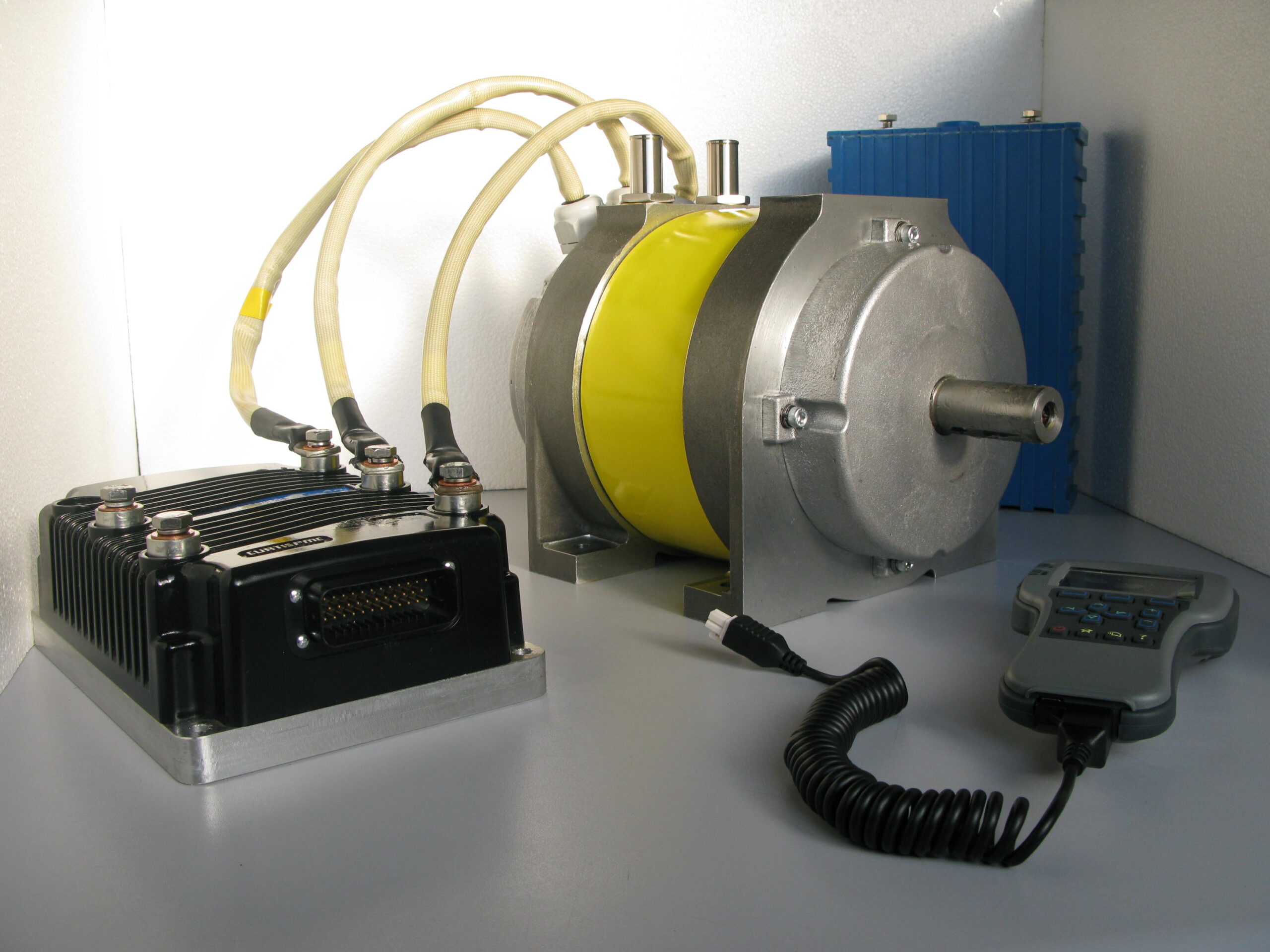 Electric Motor System
GMS 100/15CEM liquid cooled 48V AC induction drive.
650A 48V AC liquid cooled motor controller with basic display.
Toothed belt pulley gear ratio of 1:2 to achieve max motor efficiency and good paired torque characteristics with the original propeller.
Depending on the time of year, the river tide rises and falls twice a day by up to 7 m (24 ft) and flows in both directions. Obviously this had to be considered when developing a boat project. First the amount of energy required to combat the tide had to be calculated. The speed of the tide can be anything up to 8 Knots or 7 Miles per hour, more or less depending on weather conditions on the Westminster part of the Thames. In simple terms to keep the boat stationary against the tide, you require up to 8 knots of propulsion in the worst case scenario and seeing that speed limit is 12 Knots
the team needed to make sure the drive system and battery could supply the power continuously.
For peace of mind UMA was fitted with a super size lithium battery pack so there is no anxiety about range and plenty of room for the unexpected. The motor drive keeps cool using its unique cooling system and for over three years the team have been amazed at the reliability of the boats drive
system, even in one of the world's most demanding river environments.
UMA's drive system is liquid cooled so it can more than cope with the added pressure of the strong tides. Tidal rivers are much more energy intensive on river craft. Most boats will consume nearly double the amount of fuel and take twice as long to reach the final destination going against the tide. In most cases boats propelled by an electric motor are significantly more efficient than a diesel engine and of course don't discharge any harmful emissions into the water from the exhaust.
The other detail that can't be overlooked is that the GMS Cost effective motor is completely maintenance free. It's brushless, and has only 3 moving parts and two of them are bearings that should have a life span of over 100,000 hours and if they go wrong it's a simple and cost effective
replacement procedure. Over the years of testing and evaluation the only parts of the system that needed replacing were the switches that suffered from moisture ingress and the 12V fuse board. The motor project started out using river water to cool the motor and controller through heat exchangers but later these were removed and replaced with a closed loop cooling system for minimal maintenance while maintaining cooling for the vital components. The problem was raised after the intake pump under the boat was continuously sucking up plastic bags and blocking the water filter. There were also issues with bilge pump failing, ropes fraying and fenders
deflating. In general the team has been impressed and they look forward to many more river travels with their friends, sponsors and supporters who are powering UMA into the future.

Green MotorSport Limited is also a supporter of the Electric Boat Association.